Search Zeiner's Bass Shop to find what you are looking for.

Custom Search


View Order/Check Out

Product Index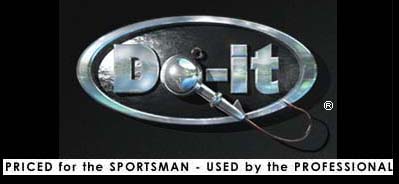 Do-It Sinker and Lure Molds and Lure Making Supplies are just what you need for making your own tackle
If you make your own sinkers and lures or you want to start making them, our selection of Do-It sinker and lure molds will help you get just what you need. If we don't have the Do-It mold you need, we can order it for you. We generally order from Do-It at least once a week.
We stock over 200 different models of jig molds, spinner bait , buzz bait, sinker and other molds. We also have all the hooks, swivels, wires, blades, split rings and other supplies you need.

Here is a picture of a 17 lb steelhead that I caught on the Clearwater River in Orofino, Idaho in October of 2010. I caught her on a yellow chartreuse, size 6 jig (one that we made with your hooks, mold and paint). She was 34 inches long. (Click on photo for larger view)
Check Out the New Molds for 2013