Thliveros Re-Petes as Bass Fishing Champion
at the Great Outdoor Games
Florida pro reverts to last year's strategy
to claim the Gold Medal
LAKE PLACID, N.Y. - July 15, 2001 - Entering the bass fishing competition at the ESPN Great Outdoor Games presented by Jeep, Peter Thliveros thought repeating his Gold medal performance of a year ago would be a longshot. However that's exactly what he did weighing in 12 pounds, 4 ounces during Sunday's finale.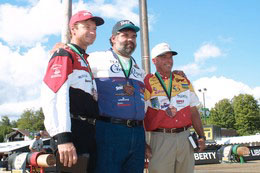 "It feels great," said Thliveros of Jacksonville, Fla. "It is a personal triumph that leaves a real good feeling inside. A lot of things came together for me the right way today. It takes your breath away when you realize the caliber of the competition, I'm stunned."
Medalists - Bass Fishing - Gary Klein (Second Place),
Peter Thliveros (First Place) and Clark
Wendlendt (Third Place)
Thliveros' winning pattern turned out to be the exact same technique he used during the 2000 games.
"I pitched a Zoom pitching tube (black and red flake) into the same grassbed that I fished last year," explained Thliveros. "When I tried the grassbed during practice, it had shrunk since last year and I didn't think I would catch anything off it."
Gary Klein of Weatherford, Texas, finished second, claiming the Silver medal with 11-2.
"This was fantastic," said Klein. "It was better than I was anticipating. I did lose a fish around Noon that might have given me a shot at winning, but it was a great day."
The Bronze medal went to Clark Wendlandt of Cedar Park, Texas, who brought in 10-9.
"I caught a lot of fish and had a lot of fun," said Wendlandt. "It feels great to have finished third, with the caliber of competition that was involved in this event."
Contenders in the event included reigning BASS Masters Classic Champion Woo Daves, 4-time Classic Champion Rick Clunn, 2-time B.A.S.S. Angler-of-the-Year Klein, 2000 B.A.S.S. Angler-of-the-Year Tim Horton, 9-time B.A.S.S. Angler-of-the Year Roland Martin, 2-time B.A.S.S. Angler-of-the Year and Classic Champion Larry Nixon, 2000 GOG Silver Medalist Scott Martin, 2000 GOG Bronze Medalist Randy Blaukat and Steve Daniel.
After bringing in the top weights during Saturday's qualifying round, the father-son duo of Roland and Scott Martin fell short. Scott brought in 9-2 to finish just ahead of his father Roland, who finished fifth with 6-10.
Next stop for Thliveros, Wendlandt, and the elder Martin is the 31st BASS Masters Classic in New Orelans, La., August 2-4. Fishing's biggest event will receive same-day coverage on ESPN 2.
All of the anglers in the event utilized Triton Tr-21 bass boats equipped with 225 horsepower Mercury EFI outboards, Motorguide trolling motors and Lowrance electronics. The rigs were towed by Jeep Grand Cherokees.
The ESPN Great Outdoor Games feature more than 250 competitors from 29 states and five countries competing for medals and prize money in four sport categories. The free-to-the-public event is July 12-15 in Lake Placid, NY. Television coverage begins July 26 on ESPN.
Fishing News Archives
Back to Fishing News from
Zeiner's Bass Shop | Kansas Angler Online | Swim Tail Lures