Here is a picture of a 17 lb steelhead that I caught on the Clearwater River in Orofino, Idaho in October.. I caught her on a yellow chartreuse, size 6 jig (one that we made with your hooks, mold and paint). She was 34 inches long.
~ ~ ~ ~ ~ ~
Registrations due Thursday, April 24
Catfish Tournament to benefit Wichita's Watson Park April 26
Youth fishing clinic scheduled for June 6 and 7 at Tuttle Creek
Angler Education Certification Course set for May 17
Catch the "Fish Management in Kansas" video online
2014 Kansas fishing forecast a recipe book
for great angling
Anglers can dish up a great day on the water using information
found in the 2014 Fishing Forecast
New Oklahoma state record rainbow trout breaks 47-year-old record
Milford fish hatchery supply lake new winter hours in place now
Hatchery supply lake, known as the Gathering Pond, open to fishing only on weekends under winter hours
Kansas State Park cabins offer great indoor and outdoor fun
Bassmaster Magazine names top lakes for 2013
Kansas' Sebelius falls from list
while Perry and Wilson slip in ratings
Crappie limit reduced to 20 per day at Glen Elder Reservoir
KDHE issues fish consumption advisories
Advisories provide guidelines for eathing fish taken from certain locations
F.I.S.H. pays landowners to allow fishing access
Enrolled private waters can benefit from fish stocking and habitat management
Angler Education Certification Course set for May 17
Anglers can make a difference by teaching fishing techniques across Kansas
April 17, 2014 - PRATT – A bobber goes down, the reel starts spinning, and fishing line is being taken out to water. The excitement overwhelms her so much that she forgets what to do. He was there to walk her through the steps, and before she knew it, her first-ever fish was in her hands. Wide-eyed and grinning from ear to ear, she says "that was fun," and that's all he needed to hear. You, too, can help create unforgettable memories like this for anglers of all ages by becoming certified to teach fishing techniques in the state of Kansas. Read Story
New Kansas state record Rainbow Trout tips scales at 15.72 pounds
Angler Josh McCullough caught the behemoth trout from Kill Creek Park Lake in Johnson County
April 10, 2014 - PRATT – In Kansas trout waters, it's not uncommon to drop a lure and get a bite after a few minutes, but to drop a lure, get a bite, and reel in a 15.72-pound rainbow trout is almost unheard of. Read Story
Click on photos for larger view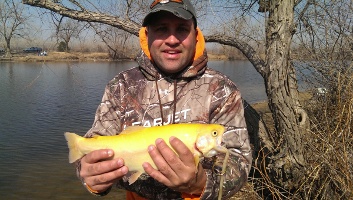 April 15, 2014 - Derby - Albino Trout we caught at Sedgwick County Park.

April 5, 2014 - Derby - Derby, 14 in green tube.

March 21, 2014 - Derby - Derby, white spinner bait 17 in
November 12, 2013 -Derby Crappie- Nov 10th and 11th Derby. All were caught on blue and green tube jig. 14.5, 15 and a 15.5 whopper!
Mark
November 3, 2013 - Sedgwick County Park - Trout caught Monday morning by David Johnson, our fly shop manager..