Here is a picture of a 17 lb steelhead that I caught on the Clearwater River in Orofino, Idaho in October.. I caught her on a yellow chartreuse, size 6 jig (one that we made with your hooks, mold and paint). She was 34 inches long.
~ ~ ~ ~ ~ ~
B.A.S.S. approves longer maximum rod length increase to 10 feet
National Hunting and Fishing Day
set for September 24
May is great month to earn Kansas Master Angler Awards
Biologists Take Tissue Samples To Evaluate Bass Stocking Program
Kansas adds new five year licenses
More fish attractors hitting Kansas lakes
Anglers have chance to participate
in Milford walleye study
How to find a Kansas fishing hole this summer
Three Kansas state parks make "Top 36" list
Catch the "Fish Management in Kansas" video online
Kansas State Park cabins offer great indoor and outdoor fun
F.I.S.H. pays landowners to allow fishing access
Enrolled private waters can benefit from fish stocking and habitat management
Kansas state record Rainbow Trout
tips scales at 15.72 pounds
Angler Josh McCullough caught the behemoth trout from Kill Creek Park Lake in Johnson County
April 10, 2014 - PRATT – In Kansas trout waters, it's not uncommon to drop a lure and get a bite after a few minutes, but to drop a lure, get a bite, and reel in a 15.72-pound rainbow trout is almost unheard of. Read Story
Click on photos for larger view
From a post to Reports from Kansas Anglers from Kansas Angler Online - September 5, 2016 - Tuttle - Not sure if this is the right place for my fish catch but here she is.

I was fishing at the Tuttle spillway on Friday night with Perch and Bluegill (floating) as always at 18ft and I tied into this guy around 2330. A 45 minute fight hell it took 30 before I even got to see him and another 15 because as soon as I got him topside down he would go taken line again. It was my second largest weighing in at 62lb my my largest flathead was 66lb.
VR
May 8, 2016 - Marion - Tried Marion yesterday, in the afternoon and caught numerous white bass and a few small wipers. I ended up catching approximately ten walleye and every one of them were short. I spoke to several other fisherman and they told me the same thing, everything was short.
Mac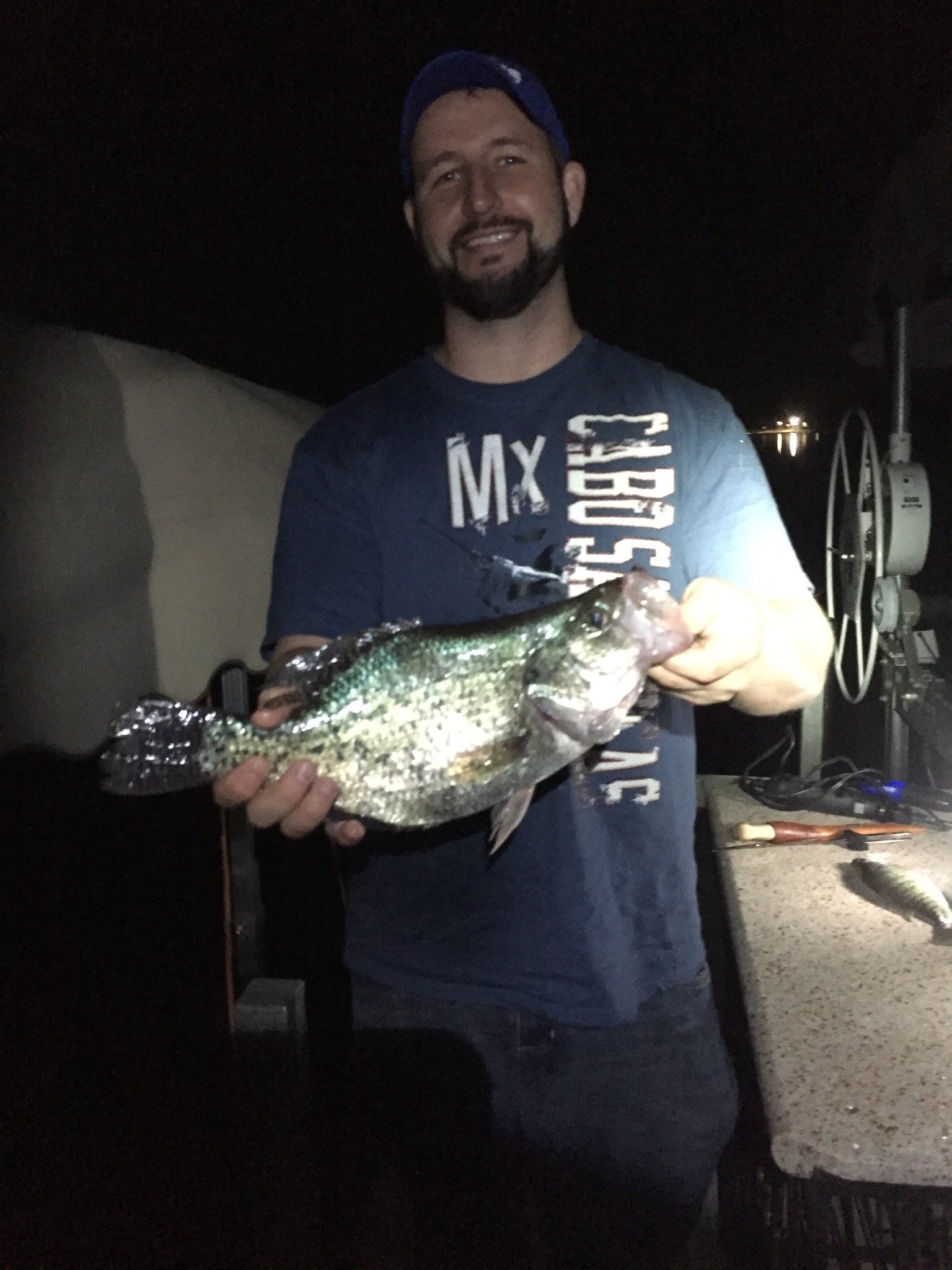 May 4, 2016 - Sherwood - landed this 16" black crappie, weighted out to be 3 lbs
May 1, 2016 - Cheney With the wind and all I thought the lake would be quite empty, coming over the hill to the state park marina area, much to my dismay the ramp was full of trucks and trailers at 7am. I went ahead and launched and went to troll south of refuge point. Caught a couple of white bass and a small catfish there trolling with jointed shad rap. Went up to walleye island and trolled up there nothing – I then did a couple of drifts with 1/4oz jig and nightcrawler and caught 3 drum the largest about 18 inches or so. I went back to trolling and caught a couple more white's and I thought I had my walleye on the last fish of the day. But, it was about a 20 inch Wiper caught on a fire tiger jointed shad rap. I'd have pictures but my cell phone ran out of power. Then the wind changed directions and nothing. The ramp parking lot was empty at 5:30 when I came in to go home. It's hard work fishing on your own when the wind is blowing like it was. But, it was fun to be on the lake again and catching fish.