M-F Plastics, Softener, Hardener | Molds | Colors | Glitter | Scents
M-F Manufacturing makes the highest quality liquid plastic for making your own soft plastic lures
You may find a cheaper plastic, but you won't find a better one. M-F Manufacturing was the first company to provide soft plastic lure making supplies in a convenient way. They started in 1970 and continue furnishing high quality products today.
* Note about shipping *
Plastic is a heavy item in relation to the value so the shipping may be adjusted to cover actual freight charges. We always compare USPS vs. UPS to find the lowest cost for the customer.


Liquid Plastic
M-F liquid plastic is custom-blended from a non-toxic, odorless, soft floating material. It can be easily mastered by the novice angler with no special equipment.
Pint - 2116LP - $11.99 Order Now
Quart - 2132LP - $19.99 Order Now
Gallon - 2228LP - $49.99 Order Now
5 Gallons - $142.99 Order Now
Super Soft Plastic
M-F super soft plastic is much softer than liquid plastic. Very easy to pour and crystal clear.
Pint - 2116SS - $11.99 Order Now
Quart - 2132SS - $19.99 Order Now
Gallon - 2228SS - $49.99 Order Now
5 Gallons - $142.99 Order Now
Salt Water Plastic
M-F salt water plastic is a formulation for a stronger, tougher and more durable material. Excellent for shrimp tails, salt water worms and all salt water soft plastic lures.
Pint - 7116H - $11.99 Order Now
Quart - 7132H - $19.99 Order Now
Gallon - 7228H - $49.99 Order Now
5 Gallons - $142.99 Order Now
Plastic Hardener
M-F plastic hardener allows the angler to make regular liquid plastic into a tougher material.
Pint - 3116H - $11.99 Order Now
Quart - 3132H - $19.99 Order Now
Gallon - 3228H - $49.99 Order Now

Plastic Softener
M-F plastic softener allows the angler to make regular liquid plastic into a softer material so suit individual needs. Softener may also be used as a worm lubricant.
Pint - 4116S - $11.99 Order Now
Quart - 4132S - $19.99 Order Now
Gallon - 4228S - $49.99 Order Now


Pouring Pan
The perfect utensil for heating plastic. This 5/8 quart aluminum pan has a pouring spout on either side and a heat resistant phenolic handle. - $9.99 - Order Now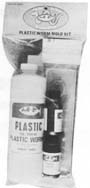 Starter Kit
Want to get started to see how easy it is to make your own soft plastic lures? This kit contains one each of a double cavity 7" curly-Q mold, black plastic color, purple plastic color, one pint of liquid plastic and an instruction booklet to get you started. If you would like to substitute a different mold or colors, tell us what you would like to do in the comments box as you are completing your order. - $28.99 Order Now
Deluxe Starter Kit
This kit has a special four cavity mold (6" round Tail worm, 7" split tail worm, and two 1 3/4" Jig Body Molds), black plastic color, purple plastic color, flo chartreuse color and a bottle of anise worm oil (2oz) in addition to instruction booklet. If you would like to substitute a different mold or colors, tell us what you would like to do in the comments box as you are completing your order. - $32.99 Order Now
Supplies | How To Make
M-F Plastics, Softener, Hardener | Molds | Colors | Glitter | Scents