Order supplies for making your own lures
How To Pour Your Soft Plastic Lures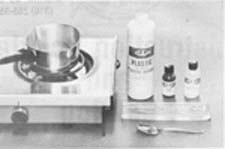 1. Material & Equipment - Material: Mold (worm mold in illustration), liquid plastic and plastic color. Equipment: Small aluminum pan, spoon and hot plate or kitchen stove (gas or electric). Pan should have a pouring spout which may be formed by simply bending with pliers. Some people report using glass measuring cups and heating in a microwave.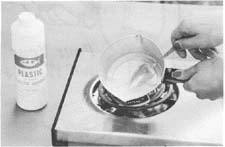 2. Heat Plastic - Pour plastic into pan (1 oz. will make approximately six - 6 inch worms). Excessive filling of pan will make pouring difficult. Heat slowly until liquid thickens and turns clear (approximately 350 degrees F). Stir frequently. Continue heating until liquid reaches pouring consistency which will be clear and thin about like white syrup. Avoid overheating which will scorch the plastic.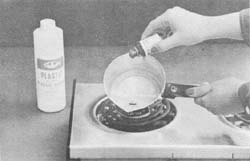 3. Add Color - Add color to obtain desired shade. Stir well, 1 oz. is sufficient to color one gallon of plastic. For best results when using fluorescent colors, add to liquid plastic before heating. Colors may be mixed to obtain your own desired color. M-F glitter may also be added at this point.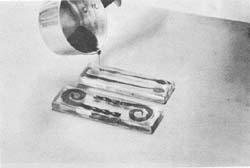 4. Pour Worms - Pour plastic into mold. Fill cavity full until it almost crowns over. Wipe plastic from lip of pan before reheating to prevent contract with burners which causes excessive smoking. When making two-color worms, the second color should be poured as quickly as possible to assure a good bond to the first. Old worms and any unused plastic may be remelted, colored and used again. (You can only make a new color that his darker than the ones you remelted.)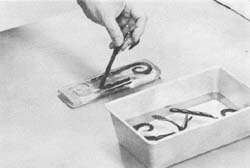 5. Remove From Mold - Allow worm to cool in mold for three minutes. Remove and place in shallow pan of water to finish cooling or lay out straight on counter top. If placed in water, allow to dry before bagging.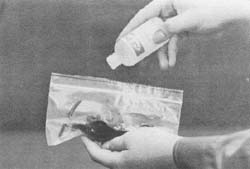 6. Worm Oil - Application of M-F worm oil to finished worms will prevent worms from clinging to each other. The anise scent is a proven fish attractor!
To vary the toughness of the plastic, M-F Plastic hardener or M-F Plastic softener may be added. Complete directions are on the label.
Order Pages
M-F Plastics, Softener, Hardener | Molds | Colors | Glitter | Scents
See how to rig soft plastic worms