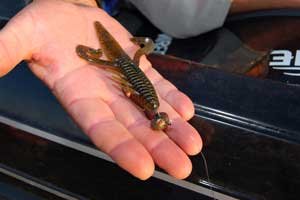 June 24, 2010 - We just received a shipment of Biffle Bugs, the winning lure at the Bassmaster Elite Series tournament last weekend. We have all ten colors right now, but it's hard to say how long they will last. They're a hot item.
Saturday-May 16, 2008 - 11:15 a m - I'll be doing a special order from Pradco Monday. If you or anyone you know needs any Cordell, Rebel, Yum, Heddon, Arbogast, XCalibur, Lazy Ike, Smithwick, Bomber, Creek Chub, Silver Thread or Booyah; give me a call Monday morning at the store (316-265-5551 or 316-265-6668) and I'll get it added in.
We just got the Bass-A-Holic t-shirts and hats in so come in and check them out. They're still in the boxes, but we can dig them out and show them to you. They way they're selling, we may not have a chance to get them displayed. We also just got them up on our shopping cart, click here.
For those of you that fish for crappie, we received a great selection of the Garland crappie baits. These were a hot item last year and no doubt will be again this year. We've also received another order of Berkley Hollow Belly Swim Baits and the new Premiere reels.
Thursday-April 17, 2008 - 10:27 pm - Are you tired of throwing away your high dollar soft plastic baits. We've just received an order of Mend-It! for soft plastic baits. This is a great soft plastic glue that allows you to save your plastic baits. An $11.99 investment in a bottle of it will save you money enough to pay for it in no time. You can find it on our shopping cart here.
Tuesday-April 15, 2008 - 12:13 pm - Our first order of the all new Berkley® PowerBait® 5" Hollow Belly™ swim bait has arrived. The bait has been field tested and tweaked by the top Berkley Pro's in order to give themselves a significant competitive advantage on this year's tour.
As if the PowerBait® scent and attractant weren't competitive advantage enough all by itself, this new Hollow Belly™ bait is loaded with other features as well that has made it the "choice of champions" when conditions call for a super swim bait.
First of all, unlike most other swim baits on the market, the body is truly hollow from nose to tail, and easily collapses around the hook when bit to insure a solid hookset. Its oversized paddle tail creates an unbelievable, natural swim bait action.
With its realistic eyes, lifelike colors, and soft texture, the Hollow Belly™ truly mimics a live baitfish swimming in its natural environment.
The Powerbait® Hollow Belly™ swim baits come packed with three baits, a wide gap hook, a treble hook, a bullet weight, a swivel, plastic tubing, and a split ring. Also included in the package are diagrams and instructions on how to rig them as a Texas Rig or Open Water Rig.
Thursday-January 17, 2008 - 2:03 pm - Our selection of Do-It products has expanded both in the store and online. We are working to have the complete Do-It catalog online even though there might be some items we don't have in the store. This will allow you to see what's available. If you see something you need, give us a call and we'll let you know if it's in stock. If it isn't, we can have it for you in a few days.
Friday-January 4, 2008 - 9:45 am - We continue to receive new merchandise and struggle with where to put it. Keep an eye out for us to start closing out some items to make space. Probably some of our most exciting new merchandise is from Pure Fishing. We've received some out our order of the new Fenwick Elite Series Technique Rods. Special handles were designed for each fishing application, and the blanks and guides are tuned for maximum strength and sensitivity. The new Fenwick Elite Tech rods are great rods for every fishing application. Pure Fishing also introduced new reels that promise to be popular. Their Revo series was a hit last year. They had a hard time keeping up with the demand for them, especially the top of the line Revo STX at $199.99. This year they introduced three reels for anglers that want great quality, but at a lowere price. They put together a series of three "Max" reels starting with a five-ball bearing reel at $49.99 and stepping up to a six-bearing reel at 59.99 and an eight-bearing reel at $79.99. Click on the link above to learn more about them and then come into the store and check them out. You would guess them at a much more expensive reel than the price indicates. I think they will be well received by anglers looking for great quality at a competitive price.
Monday-November 12, 2007 - 11:05 am - If you're not a subscriber to Bassmaster but like to buy each issue, we've just received the December issue. This issues includes the Gear Guide for 2008 as well as features on lures, accessories and storage, reels and much more. Stop by and get your copy today before they're all gone.
Saturday-October 13, 2007 - 9:34 pm - If you enjoy using light equipment and small lures, stop by and see the new shipment of lures from Creme, Burke and Little Fishie. We have all types of artificial insects, small crank baits, rigged worms and other fun things.
Thursday-August 16, 2007 - 5:21 pm - New merchandise continues to arrive. We just received some of the new Lucky Strike Real Skin Pointers 78 & 100. We also received some special run colors from Zoom in Trick Worms, Brush Hogs and their Chunks. I don't know if we will be able to get any more of them, it may be a one shot deal. Stop by and check them out.
Wednesday-August 15, 2007 - 3:30 pm - We've just received our second order of Yamamoto Flappin' Hogs. This is Yamamoto's bait there's been so much buzz about. They were just released on the 12th of July. We stock all 13 colors.
Tuesday-August 14, 2007 - 2:27 pm - We received our shipment of the September/October issue of BASSMASTER magazine yesterday. They are available for sale. Check out the contents by clicking here. If you don't receive BASSMASTER, make us your newsstand of choice.
Tuesday-July 24, 2007 - 3:12 pm - As we move deeper into summer bass fishing, it's time to start going deep in many lakes. That often means deep crankbaits like the Bill Norman DD22 or 10 and 12-inch worms. We have a good selection of colors in both. Maybe you like using heavy spinnerbaits. How about making your own? We have spinnerbait heads as heavy as one ounce and all types of blades, skirts and everything else you need to make your own. Besides that, it's fun to catch fish on something you've made.
Maybe you like to do your bass fishing in small bodies of water that get a serious case of moss this time of the year. We have a good selection of lures for this type of fishing also, including a new shipment of the Bill Norman Weed Walker in two sizes and all five colors they make. If you would like to order some, they are also on our shopping cart.
Thursday-July 19, 2007 - 7:25 pm - We've received another order of the Abu Garcia Revo STX reels. They've been hard to get on a consistent basis this year. We've had a number of them on backorder for quite a while, but finally got them. If you haven't checked this reel out yet, you should. You can read more about them and/or place an order by clicking here.
Wednesday-July 18, 2007 - 11:42 am - We've just received our Yamamoto order and the Flappin' Hogs. This is Yamamoto's bait there's been so much buzz about. They were just released on the 12th. We received all 13 colors and are working on getting them put up. It wouldn't surprise me if we run out of some of the colors quickly.
This heavy compact bait has great action when Texas or Carolina rigged. Use it with any jig head or add it to your favorite flippin jig and you have a winning fish catching combination!
We also received several new Sinko colors.
Mega Cat's new Net Light and Mini-Beam now in stock
March 16, 2007 - With spring fishing season nearly here, people are getting geared up for catfishing. Maga Cat (a Kansas Company) has a couple new products that catfish anglers need. Of course, any angler fishing at night has a use for one or both of thes products. The net light attaches to landing nets so the light shines on the net and the angler has both hands free. The Mini-Beam is a LED light that's small in size, but big in function. One of its more important features is that it floats.
Both products are available in our store or online in our shopping cart. You can read more about them by clicking on the links above.
Vicious Line has arrived
February 8, 2007 - We've received our first shipment of Vicious Line. This is a new line for us and I think it will be well received. The fluorocarbon line is very competatively priced. The Ultimate series is in a 660-yard spool that's packed in a box that serves as a winding station. It's a neat idea. The box has an opening on one side that the line can feed through for spooling casting reels and another hole on the end for spinning reels. Check them out the next time you're in.
Our spring order of St. Croix rods has also arrived. We've also received our order of many of this year's new Bass Pro reels. The quality and price of these reels really make them serious contenders. We have the Johnny Morris Signature Series, the Rick Clunn Signature Series and the Extreme Reels. You can choose from right or left hand models in speeds from 5.4:1 to 7.1:1. The Extreme has more ball bearings than last year and remains at only $79.99. We will have the Johnny Morris Elite reel as soon as they are available.
Here's a great way to get started in making your own lures
January 8, 2007 - We've received some great kits for people wanting to get started making their own sinkers or lures. These kits are from Do-It, the leading manufacturer of lead molds. We have kits for pouring roundhead jigs, bank sinkers or egg sinkers. Each of these kits include everything you need to get started and a DVD to show you how. We also have a kit for making weedless bass jigs and another for making spinnerbaits. Check them out.
New idea for Power Bait for Trout & Crappie
December 15, 2006 - Are you tired of the messiness of using Power Bait and other dough baits for trout and crappie? A California angler came up with an idea that will revolutionize fishing with those baits. Read more about it.
Bowtie and Corker floats now in stock
June 21, 2006 - You've read about them in the Wichita Eagle and you may have seen them at the Sports Boat and Travel Show or talked to someone that's used them. Perhaps you've already used them and needing some more. We now have both Bowtie and Corker Floats in stock. Read more about them
Complete selection of Sparkle Tail in stock again
June 1, 2006 - May saw more merchandise arrive as we started receiving merchandise to restock items and also new items for our inventory. After selling out of almost all of our Sparkle Tail lures in both sizes and all colors, we've received a new order and now have all the colors in both sizes available once again.
We added a number of new items to our selection this spring
April 27, 2006 - Come in check out our expanded selection of Rapala lures. We probably doubled the number of Rapala lures we stock. We also have recently received an order of Booyah spinner and buzz baits.
Earler this year we added the Secret Weapon spinner and buzz baits. Anglers like this line of spinner baits because of the flexibility they provide. You can convert from a single to a double (or more) spin in the matter of seconds without having to tie on a new bait. The design of these baits also lets you change the type or color of blades to meet changing conditions.
If you haven't seen our selection of soft plastic dip dyes, you need to get in and check them out. We have a good selection of colors from Spike It and we also have all three colors from J J's Magic. This is a new player in the dip dye market. They use a different process than Spike It and have a much heavier garlic scent.
Garlic is one of the standards in scent attractants. If you like to add the garlic scent, but you don't like the mess of sprays or squeeze bottles, you will love the JJ's Magic dip. It is just like a dip dye, but it has no color. You can take your baits that have the color you like and dip them for a long lasting garlic scent.
Here's a great deal for a fishing collectible


February 20, 2006 - We've received a shipment of the first in a series of collectible fishing rod and reel combos. It's a minature Quantum Energy E30 PTI spinning reel mounted on a Tour Edition PT rod measuring only 15" with relistic action. Learn more about this combo and others in the series by clicking here.
The lure that won the classic is at Zeiner's
Tungsten tube weights are also in stock now
January 26, 2006 - Dust off your old Rogues. As you probably know, that's the lure that won the Classic last year. If you don't have any, stop by and see our selection of the new Rogues from Smithwick. Are you a tube angler? We have the new XPS tungsten tube weights. They are tungsten injected plastic available in 1/8 and 1/4 ounce and can be cut to make just the weight you need.
It's that time of the year
January 24, 2006 - New merchandise is arriving almost every day. Our St. Croix and Falcon rods are starting to arrive. Be sure to check out the rebate from St. Croix when you purchase a St. Croix rod and reel at the same time. You can get up to $30 back. Take some time during your lunch hour or after you get off work to come by and check out what's new.
Have you seen our expanded fly department?




November 15, 2005 - We've moved our our flyfishing and flytying items into our AnglerZone.com fly shop area. Now you can see all our items in one area. We've been serving flytyers and anglers for years. Now we're doing it even better. Click on images for larger view.
We are here for you all year
October 5, 2005 - Ever notice that when it gets to be this time of the year, many places forget about the angler. They must think you fish only during the spring. By the time summer hits, they've decided the season is over and it's time for hunting and fall clothing. Then when you get to October and need something to fish with, you discover it's hard to find that item. That doesn't happen at Zeiner's we restock on our
Looking for Yamamoto baits? We've got 'em
August 5, 2005 - We just received another shipment of Yamamoto baits and have another on the way with an expanded selection of the popular Kreature bait. We hope to have them by the end of next week.
We've been digging out treasures
August 1, 2005 - We've been digging things out of the back room and from the nooks and crannies. We've uncovered some discontinued and hard to find baits. You might want to come by and check them out.
We've also just received another shipment of War Eagle buzz baits, spinner baits and jigs. If you need some, you'd better hurry. They always go fast.
We also have some good prices on some rods we were able to get a good buy on and are passing the savings on to our customers.
It's June and new items are still arriving
June 8, 2005 - This is the time of year that many big retailers start considering the fishing season over as they fail to replace soldout merchandise and order nothing new. They are looking ahead to the next selling season.
It's not that way at Zeiner's. It's always fishing season at Zeiner's. We've recently received new orders of Norman DD 22s and those hard-to-find Weedwalkers. We've also received a large order of Eppinger spoons and Sparkle Tail lures. Many of our customers use the Red Eye spoons as they travel north for summer fishing.
We've also received yet another order of Pure Fishing's popular Blade Dancers and the Berkley Glow sticks. These have been the hottest rod this year with the catfish anglers.
Speaking of catifish anglers, we've also received a shipment of the catfish callers you read about in the Spring issue of the Kansas Angler. These are still very hard to find. Check them out in the store or in our shopping cart by clicking here.
Earlier this year we were appointed as a JP Ross flyrod dealer. If you are into fly fishing and you haven't seen these yet, you're in for a treat.
Another hot item this year has been Falcon's tackle organizers. We recently received another large shipment of them and have a good selection.
Rejuvenade™ has finally arrived


May 28, 2004 - Anglers started asking for Rejuvenade™ last summer as word of its effectiveness started spreading. We now have it and will be stocking it as an aid for keeping fish healthy in livewells. Read more
More to choose from than ever before
Feb. 29, 2004 - Watch out for the boxes when you come in the store for the next few weeks. New merchandise has been arriving daily and we can't keep up it. We are restocking on items we had in the past and trying to find space for all kinds of new merchandise we haven't had before. We've added War Eagle jigs, buzz baits and more of their spinner baits. Their spinner baits were the hottest baits we had last year along with Lucky Craft crank baits. We have a big order of the Lucky Craft scheduled to be in the store during the first week of March. Better hurry though because they will go fast. We've also expande our selection of Pure Fishing merchandise to include more Abu Garcia reels, Fenwick rods and much more. Come check us out. We think you will be pleased.

Korkers Convertible Sole Wading Boots
October 1, 2003 - This has to be one of the best ideas in wading boots to ever come along. Available in two models, the boat comes with felt and rubber trail soles. Four other styles of soles are also available. Read About Them

Strike Indicator Light and Alarm
August 11, 2003 - Here's an idea many anglers will appreciate. Knowing when you have a bite when you don't have your rod in your hand can be difficult, especially at night. This invention can cure that problem and increase your chances of catching fish.
Read About It
Berkley's new Gulp is starting to arrive
June 25, 2003 - You've probably already heard about the hot new line of Gulp Baits from Berkley. We're starting to get advance shipments. Come in and check it out. You can be one of the first to fish with it.
Power Bait, Norman and more has arrived
April 14, 2003 - It's not all up yet, but will be soon. We've just received large orders from Norman Lures and Pure Fishing. Included in the Norman Lures order are the hard-to-find Weed Walkers and Bass Magnet craws. You will probably find the best selection of Power Baits in this part of the state. Worms, craws and Power Jigs all arrived on this order. We also have the new Storm Shad body lures in a number of sizes and colors. If you haven't been in for a while, you're in for a surprise.
Check our our new merchandise from Yamamoto, Ambush Lures, High Roller, War Eagle and more
We are receiving new merchandise nearly every day. Our Yamamoto selection continues to increase as does our selection of Lucky Craft lures. We've also added the hot new Ambush Lures. These were the hit of the Kansas Sport, Boat and Travel Show. We've received our spring order from War Eagle. Included was a hot new color. High Roller wood baits are also in. We've also received a big order from Spike It, the leader in dip dye for soft plastics.
2003 merchandise starting to arrive
We're busy getting ready for 2003 by moving some things around to make more room. Our Zebco/Quantum/Martin merchandise is starting to arrive. A large order of St. Croix rods is also on the way. Check out the new rods from America's premier rod company.
Hottest new catfish bait of the season
Junnies (Cat Tracker) has outdone themselves with their new Super Sticky catfish bait. Catfish anglers know the Junnies name and baits. Catching catfish for a long time, Junnies baits are known and trusted by catfishing pros as well as catfish anglers all over the country. The new Super Sticky formula
Seventeen colors of the new Screaming Eagle Spinner Baits now in stock
War Eagle's new bait puts 1/2 oz in bait with 1/4 oz head
War Eagle designers have combined the weight of a 1/2 ounce bait into a profile of a 1/4" bait, producing a bait that gives the angler casting weight and depth while maintaining a smaller profile to help prevent snags. You will find 17 color and blade combination at Zeiner's. War Eagle spinner baits feature gold and nickle plated heads in addition to painted heads.
Lucky Craft lures contain to be one of the hottest items at Zeiner's
Worth $1,800 to one customer
Who in their right mind would spend $14.99 for a lure? Ask Keith McCann. Zeiner's store manager Steve Ryan convinced McCann to buy one of the "high dollar" baits before a trip to a tournament. After the weekend tournament McCann reported to Ryan that his investment had earned him a $1,800 payday. A copy of the check is posted to the showcase at Zeiner's, just above the Lucky Craft lures. Hottest color? Table Rock Shad.
Zeiner's has been approved as official dealer for Gary Yamamoto Custom Baits
One of the most respected names in soft plastics, Gary Yamamoto Custom Baits, has approved Zeiner's Bass Shop as an authorized dealer. The Yamamoto organization has a procedure for evaluating potential dealers in order to match quality dealers with the quality Yamamoto product. You will find three of the Senko styles. Other baits will be added as time goes by. If you have any special baits you want, Zeiner's can order them for you.
Mad Man Craw worms are in stock
We now have all colors of Mad Man Craw worms in stock in both the 3" and 4" sizes. This promises to be one of the season's hottest baits. The original craw tube was one of our top selling baits last year and they caught fish. The new craw worm from Mad Man promises to be just as effective.
Zoom selection continues to grow
Regardless of the Zoom product you fish the most, there's a good chance Zeiner's has the best color selection in the area. Stop by and see for yourself.
We're working on expansion again
If you haven't been in lately, you're in for a surprise. We now have an enlarged area for our plastic baits and have expanded our selection of fly tying materials.
Mad Man Craws are here
We now have all sixteen colors of Mad Man Craws in stock in the 3" and 4" sizes and will soon have the 5" size available. These craws have been one of the hottest new baits this year. Starting in Texas and Toledo Bend, they've been making their way across the country and catching plenty of fish on the way. Learn more and see the colors available.
Zeiner's selection continues to grow
If you haven't been in the store for a little while, you'll be surprised when you see all the new merchandise Zeiner's has received this year. It continues to come in and space is at a premium.
Cyclone jigs, spinner baits and buzz baits are now in stock as well as the B-2 slow retrieve buzz bait from
War Eagle spinner baits and Lucky Craft crank baits are also in stock.
Drift fishing isn't only reason to have your boat equipped with Boat Brakes™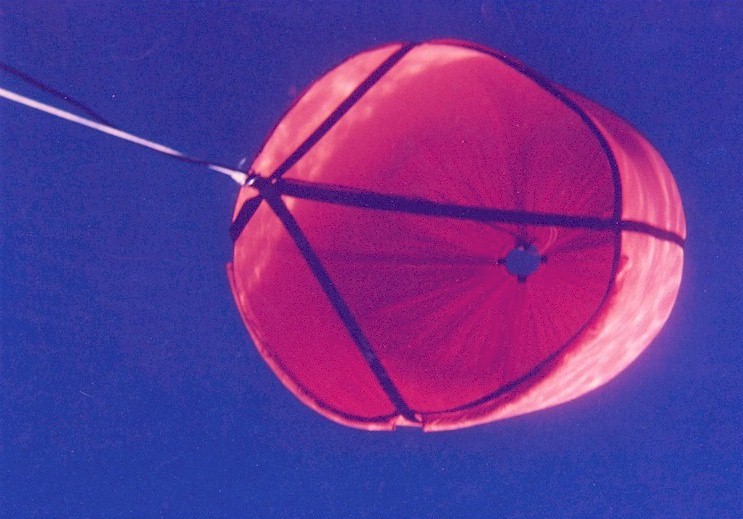 Boat Brakes™ from Para-Tech® bring a high quality American made system for trolling, drifting and emergencies. Available in four sizes from a 24" - 42 gallon drag size to a 60" - 660 gallon drag size for heavy boats up to 33 feet long.
A scale model sample is available at Zeiner's so you can see how it works before you make your investment in a new dimension of enjoyment and safety when you are on the water. Read more about Boat Brakes™ now.
Gene Larew baits are hot, Zeiner's has them
The complete line of Hoo Daddys and Hoo Daddy Juniors can be found at Zeiner's. Also featured is the complete selection of Mega Ring tubes and the popular Crappie Spider. Zeiner's also has the best selection of the original Salt Craws in all three sizes. Larew has discontinued a number of colors. Some of those colors can still be found at Zeiners.
Plenty to choose from for fly fishing & tying
Zeiner's has a super selection of bass bugs and flies from Hank Roberts. Can't find exactly what you want? Make your own with Zeiner's large selection of fly tying supplies.
Sonny's Catfish Bait
Many of our customers asked for this bait last year. Now in stock, we have the regular and blooded. Used in combination with the Junnies plastic catfish worm system, it's hard to beat we've been told.

Pro Cut Line Cutters
These handy line cutters fit on your rod to make cutting your line easy. No need to search for your clippers. Introduced at the Kansas Sports, Boat and Travel Show, we ran out on Saturday. We have them in stock in the store now. They may be moved from rod to rod. Better yet, get one for each of your favorite rods. Order online
Specials
| Fishing Reports | Fishing News | Home