Home Page
About Us
Tour of Store
Online Sales
Baits
Lures
Tackle
Lure Making
Fly Fishing
Info Center
Check Out
What's New
With Zeiner's

Merchandise
Specials
Fishing Reports
Fishing News

Have You Read



Have You Tried



Back To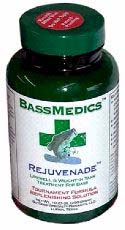 Rejuvenade - Proactive livewell, holding & release tank formula
Rejuvenade™ is a patent pending formulation of essential components that provides essential elements that revitalize, replenish and energize bass preparing them for release. By replacing lost energy and returning proper balance to the fish's system, it will help to decrease recovery time and increase the survival rates of bass (and Game fish) caught and held during tournament angling. Rejuvenade™ is a tournament formula replenishing solution for year round livewell & weigh-in tank treatment of bass and other fresh and saltwater game fish. Rejuvenade™contains only human food or animal feed grade products.
Rejuvenade™ net contents are 290 gms per jar. Rejuvenade cost only $0.24 per 10 gallon treatment.
Available in Store for $15.99
or
Back to Shopping Cart Product Index
Back To Zeiner's New Merchandise