Home Page
About Us
Tour of Store
Baits
Lures
Tackle
Lure Making
Fly Fishing
Info Center
Check Out
What's New
With Zeiner's

Merchandise
Specials
Fishing Reports
Fishing News
Kids' Corner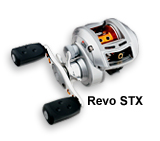 Garcia had trouble keeping up with the demand for this reel in 2007. They hope to be able to keep up in 2008 in order not to disappoint anglers.
A revolution in low profile reels, Abu Garcia has lowered the profile while increasing performance on their toughest low profile reel to date! The Revo features precision machined Duragear brass gears with an oversized maingear housed within an aluminum frame. This gear configuration makes the reel smooth and reliable while increasing strength and durability. The Carbon Matrix Drag system is constantly smooth across all drag settings, and the shielded stainless steel bearings and corrosion resistant roller and spool bearings provide ultra smooth casting and retrieve with life-long performance. The six-pin centrifugal brake aids in controlling casts in varying fishing conditions.
REVO STX features the Linear Magnetic™ Brake System which allows fine tuning in any casting application by consistently applying mag force to the spool.
Purchase any Abu Garcia Reel or Combo ($99.95 and above) and receive a mail in coupon for an Abu Garcia Gear Bag! Offer good on purchases made until 9/6/07.
Capacity 140 yards of 12 lb
10 ball bearings plus 1 roller bering
Right Hand Model
$199.99 Order Now
or pick one up in our store
Home | Tour | Do-It-Yourself | Fly Fishing | Info Center | Lures | Tackle | History