Charlie's Magnet Crankin' Craw
The original crawfish crankbait
from Bass Hunter Lures
Bill Norman Lures has been purchased by PRADCO and these lures were discontinued. We have searched our warehouse and have found all of them we can. They will be available until we run out. We will work to note colors we are out of as we run out of them. Sometimes, we may be out of a color or size even though it shows they are available for order. If you order some that we happen to be out of, we will contact you before processing your order.
When these are gone, they're gone. Can't get any more.
Sorry, all of these are gone.
If we run across any, we will post it here and on our facebook page.
Not just a crawfish imitation but a tool for your crankin' arsenal. Each Crankin' Craw is precisely painted to meet specific fishing situations from the molting crawfish to the Cajun Craw. Every one of these lures is paited with Sunshine Gel-Coat with a lifetime guarantee.
In addition, each Crankin' Craw suspends when stopped to perfectly match the stop and go action of a crawfish. One last word on the Crankin' Craw, if you consider yourself a serious small mouth fisherman this is a must have crankbait.
At Norman, they build tools, not toys. Made in America.
Priced at $5.49 each & **Gel-Coat at $6.59 each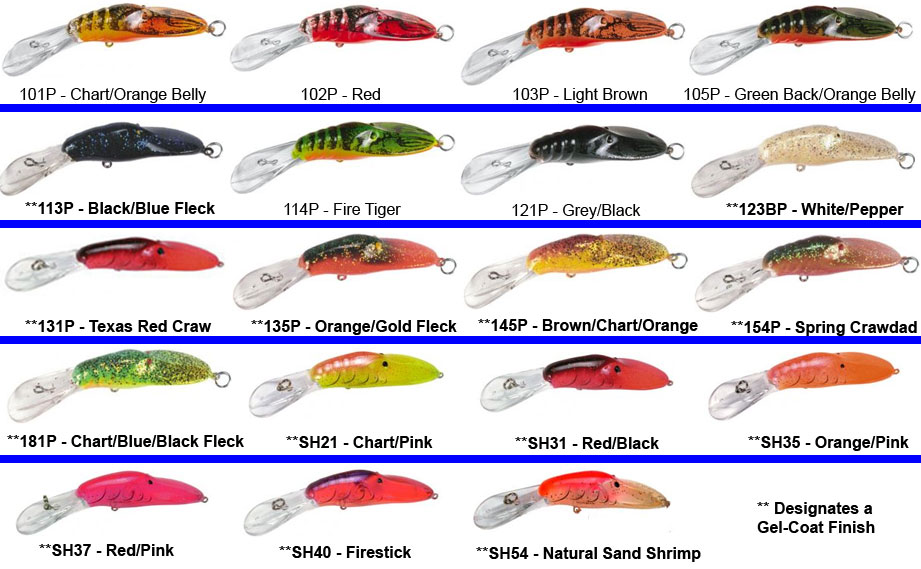 Back to
Product Index