Kick'n Walleye has been tested and re-tested all over Canada.
The manufacturer has had their buddies at Walleye Central testing it for years now and everyone helped them in development of the formula. This is not just a take off on one of their other scents, nor is it just a sweet smelling scent they made to catch fishermen. This stuff smells better then any Crawfish, worm or any other scent on the market.
They've have tremendous success with this formula. It is being secretly used by tournament pros on the Walleye circuit. You just won't hear about it from them. That's for sure.
Testimony
"I have been fishing Professionally for 16 years and through the years I have used a variety of scent and attractants provided to me by my sponsors. They worked fine but I never had the feeling of having an advantage like I did when I had my first try of Kick'n Walleye.
To say the least, this product is the best scent I have ever used. I have noticed that my fishing success has increased by using Kick'n Walleye. Personally I can say it has put 3 times as many fish in my boat during side by side tests using soft plastics. This is a product I highly recommend no matter what species of fish."
Greg Horoky
Professional Walleye Tour
---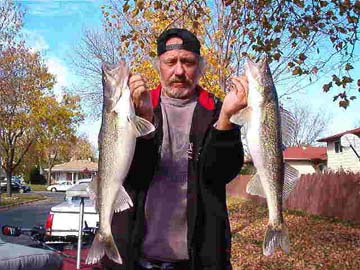 Those two walleye I am holding in the picture was caught on the Detroit River during the fall feed in 2005. They were the biggest of the 12 eaters we kept. They was caught vertical jigging a blue/white roundball jig and a Fin-S minnow tipped with a nightcrawler. The bait was also well soaked in KicknBass Walleye Scent.
Respectfully,
Willis "SNAGMAN" Beam
Independent Field Tester
$5.49
We can send up to five bottles in a small flatrate box. Shipping will be reduced to $6.95. We mail smaller orders first class. If you order one, shipping will be reduced to $3.95. If you order two or three, shipping will be recduced to $4.95.
Check out the other formulas
Bass | Catfish | Crappie | Trout | Walleye | Saltwater | Java | Shrimp