Glow Wrapz - Rod Wrapping Material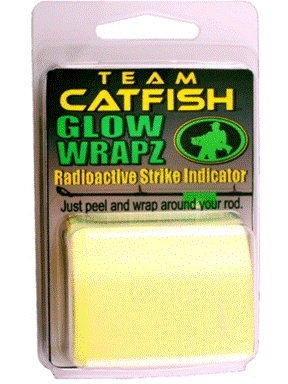 Introducing the Team Catfish GLOW-WRAPZ. The greatest night fishing glow product ever. Just wrap the GLOW-WRAPZ around your pole and let them glow. An amazing new glow technology allows the GLOW-WRAPZ to glow for 10 hours or more. To keep them shining like a diamond, a 5 second quick charge with a flashlight is the answer. You can also custom cut the GLOW-WRAPZ to fit anything you want to shine at night! Place the GLOW-WRAPZ on your pole from the tip to 2 ft. back for the best performance.
No more bugs and lights..........
No more "one time use" glow sticks, Team Catfish's GLOW-WRAPZ keep working night after night.
You get 3 GLOW-WRAPZ per pack = 2.99
Back to Catfishing
Back to Team Catfish Secret Seven
Dip Baits | Fiber Bait | Dip Tubes | Dead Red Spray | Mini Furry Thang
Hooks | Sinkers, Slides, Bumpers | Glow Wrapz | Floating Fish Grip
Tug-O-War Braided Line | Tug-O-War Monofilament Line
Team Catfish Gear | Reel
Back to Product Index