Dip Bait Lures
Serious catfish anglers know plastic dip bait lures (or worms) are the way to go instead of using sponge hooks. Sponge works well, but it tends to not hold the bait as long because as soon as it absorbs water, the bait washes off quicker. Plastic lures hold the bait longer because it sticks to them. When rebaiting, you dry off your lure before dipping it, that way you get a better ability to hold the bait longer.
We feature all four styles of dip bait lures (or worms) from Junnies Cat Tracker in addition to sponge hooks from Magic and the Bill Dance Big'n Bait Holder and Bait Dipper.

Juinnie's Cat Tracker has four styles in a variety of colors. Each style is designed for a different applicaton. The stick worms are best for water without any current like ponds and small lakes. The egg worm takes over when fishing small streams and slow currents. If you're fishing heavy currents, you will want to use the tubie worm. It's hollow design lets you get bait inside the lure as well as sticking on the outside of the lure.
The newest design is the Tubie 2000. It is a hollow design like the original tubie, but the body has a different shape. It is packed with a single style hook as opposed to the treble hooks featured in the other three designs. Many of our customers use the Tubie 2000 with Kahle hooks instead of the straight shanked hook furnished by the manufacturer. See the full line of Junnie's Cat Tracker dip bait systems.
Team Catfish - Secret Seven did not stop at just the dip bait. They have also introduced a nice line of gear to help for the serious catfisherman. When fishing for the great catfish you will want to make sure that you are using the gear for the serious catfisherman.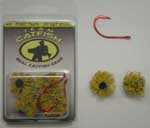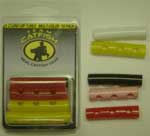 Starting out with the Team Catfish EZ Load Dip bait tube. These dip tubes are super soft with 3 large vent/loading holes in them. The 3 large holes make these tubes very easy to load with dip bait. The Team Catfish FURRY THaNG Dip Bait Holders are the ticket. They are made with loop after loop of bait holding ability. These babies are bait hogs, they don't like to let go of your dipbait!
Bill Dance's Big'n Bait Holder and Bait Dipper


Known for bass fishing, Bill Dance also loves catfishing and has developed a bait holder for dip baits and sponge baits. His design combines plastic and sponge for a combination that many anglers believe in. The sponge releases the bait faster while the plastic bait sack holds the bait longer so catfish want to grab it once they follow the scent and bait particles that have washed off the lure. He may just be onto something here. Many of our customers swear by them.

Sponge Hooks from Magic
Maybe you're a purist and prefer the tried and true sponge hooks for your baits. Don't worry, Zeiner's has those also.
Back to Catfishing