Stabor® Line Locks available at Zeiner's
Zeiner's will pay you if you're using Swim Tails® and
place in the top ten in this tournament. First place wil pay $100
and each place below first pays $10 per place less through tenth
which will pay $10. Payment will be made in our store
with proof of place and use of the Swim Tail®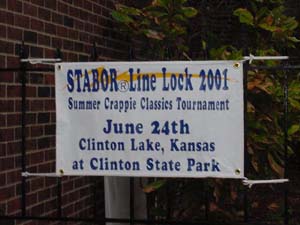 Guaranteed $1000
for first place no matter what!

Two entries or 200 entries you get the cash.
As the number grows
so does first place
and payout down to ten places based on entries.
For example;
$2,600 1st Place
Based on 75 boat field.
(36.4% of entry fees plus $1000 from STABOR®)
$1500 2nd Place
Based on 75 boat field.
(36.4% of entry fees plus $1000 from STABOR®)
Additional Cash if using the STABOR® Line Lock System
1st $100
2nd $50
Big Fish $50 using a STABOR®
ENTRY FEE is $100.00 per boat. All entry fees must be received NOT LATER THAN June 15th to avoid paying a late fee. Entries taken at the ramp will be charged a late fee of $20.00 per team.
STABOR® Sporting Goods is one of many proud Official Sponsor of The American Crappie Association
We thank Mike & Mary Hawkins, members of Crappie Busters of Kansas,
for their dedication and enthusiasm as we embark upon
our first of many classics throughout the USA.
Tournament Director Mike Hawkins at (785) 234-8426
or STABOR® (800) 279-4006
Send e-mail to: crappie_busters@hotmail.com or stabor@stabor.com
Crappie Tournament Rules
Rules: The following rules will be used for the STABOR® Line Lock Summer Classic. The tournament committee will interpret these rules and all decisions are final.
Participants: All team members must be at least 16 years of age or older unless they are fishing with a parent. STABOR® Summer Classic Tournament requires a buddy team of two contestants per boat, teams can be friends, husband and wife or parent and child.
Fees and Payback: Entry fee for the STABOR® Summer Classic Tournament will be $100.00 per boat. Late entries will be charged $20.00 per boat at the ramp. There will be at least a 75% payback (this includes all cash, trophies and other prizes. Big fish will be 100% payback of the pot. Registration will be from 4:30 a.m. to 7:00 a.m. at the boat ramp.
Tournament Committee: Shall consist of the tournament directors, STABOR® pro-staff representative andone at large competing team. The committee shall resolve any protest or disputes that might arise during the tournament. All decisions by the tournament committee are final.
Entering: All contestants must read the tournament rules, pay entry fee, fill out and sign an entry form.
Tournament Hours: All contestants should check-in at least one hour prior to the start of the tournament. Tournament hours are from 6:00am or safe light to 3:00pm. All fishing will stop at this time. All contestants must be in weigh-in line by 4:00pm.
Take-Off Order: The tournament take-off order will be determined by the date of the entry received. The start will be staggered start and under the control of the tournament director.
Legal Fish: Must be presented live. Must be at least 10 inches in length. A tournament limit is no more than 10 fish.
Permitted Fishing Locations: All areas that can be legally fished are open to contestants. All current state laws will be followed concerning allowable fishing locations. Team members must not depart the boat to catch or land fish. Contestants must stay a minimum of 50 feet from all other tournament boats. Tournament boats must display, in plain sight, the flagging presented at boat check.
Tackle and Equipment: Fish must be caught on rod and reel.
ONLY ARTIFICIAL BAIT WILL BE USED. Current state laws must be followed concerning the number of rodsand reels permitted to be used by each team member.
Check-in Procedures: Each boat will be issued a numbered card at check in. The card must be turned inat weigh-in. No team will be allowed to join the weigh in line after 4:00 PM. Anglers must be in line with fish by 4:00 PM or be disqualified. NO EXCUSES.
Live Well: It is recommended that fish be kept in an aerated live well during the tournament hours.
Kill Switch: Kill switches are recommended.
Life Jackets: Life Jackets will be worn when the combustion engine is running.
Alcohol: NO ALCOHOL will be permitted during tournament hours.
Protests: All protest must be filed with the tournament director with-in 10 minutes of the conclusionof weight-in. The tournament committee will be used to resolve protests.
ALL FEDERAL, STATE AND LOCAL FISHING and BOATING LAWS WILL BE FOLLOWED.
Enter on the Stabor Site