About the Bowtie Family
The next "BEST IDEA" in fishing floats!
Angler turned inventor Charles R. Jones is about to realize his dream of producing fishing floats that will help the enviroment. Jones is interested in decreasing pollution from lost fishing tackle and in the process creating jobs in his small rural hometown.
Jones has received multiple patents based on his new approach in fishing floats. Over a period of three years and more than 2,000 hours of field testing he developed over 135 homemade fishing float prototypes that resulted in a unique product with very different features.
Jones's new patents are characterized as cylindrical shaped Slip-floats that lie flat in the water and have the ability to rotate as fish feed or grab the bait. When reeling in the line the float uses "Facial Water Resistance" to hold its position while the hook rises to the float avoiding being dragged through the debris in the water. This effect is a departure from the traditional floats that has better visual tracking as well as a reduction in hook snags. The actual performance of these floats are based on enviromental conditions and some trial and error may be required to receive the best results. Suggested rigging components that are readily available include lighted cylume sticks, bobber stops, beads, slip weights and hooks.
To understand the development of these floats one needs to take a step back in time. During the spring of 1999 Charles was in his boat fishing at the Greensburg state lake northwest of Greensburg Kansas when he noticed something behaving erratically in the water. He pulled closer and found a Mallard duck nearly drowned in the water. As the duck had been feeding it had become entangled in a mass of monofilament fishing line. The waves and undercurrents were repeatedly submersing the duck under the water. Jones pulled the duck from the water and began cutting it free from the the mass of tangled fishing line, and as he did he watched the nearly drowned duck come back to life.
As an avid fisherman for many years Jones had seen many waterfowl as well as other animals suffer from fishing line entanglement or from wounds from other types of lost tackle. After rescuing the duck he began to think of a way to eliminate the problem of enviromental pollution due to lost fishing line as well as the lead weights that went with them. Jones's belief is that the majority of line breaks occur when the line becomes crimped from fixed bobber attachments and the line twists or is cut on purpose due to hook snags, so he began developing a method of fishing to reduce fishing tackle pollution as well as providing a measure of safety for the wildlife as well as anglers.
Jones's work has achieved a float design that will substantially reduce hook snags. The slip floats he came up with have virtually eliminated line crimp as well as greatly reducing the frequency of line cuts due to hook snags. The design of his floats allow the hook to rise almost vertically therefore avoiding being pulled through the underwater debris and vegetation. These floats also rock with the waves keeping your bait moving and will make dead bait as well as plastic baits seem more lively. Anglers will then be provided with a more enjoyable fishing experience with more active responses as well as fewer tackle repairs. Jones's continued field testing revealed that his floats worked on a variety of species, lake and enveromental conditions.
Several years have gone by since Jones started working toward developing his own business. The Bowtie™ & Corker™ Float Manufacturing Company was formed in June of 2003 to assist him with producing and commercialization. Operations consist of assembling, packaging, and distributing two initial products, the Bowtie Float and the Corker End-Tapered Float.
Corporate board-of-directors were chosen specifically for their ability to contribute toward start-up and operational activities. Several directors are independant businessmen, while others have extensive experience in bookkeeping, accounting, payroll, inventory control, customer relations and sales. Another is a licensed electrician, safety compliance officer and HVAC technician. Yet another is an offset press operator with ties to graphic services.
The use of design engineers for technical assistance has proven helpful in transforming Jones's home-made prototypes into a bonafide working product. The use of high quality impact polystyrene has provided a durable and long-lasting product. Float haves will be assembled with the use of ultrasonic welding. Special recognition is given to the Mid-America Manufacturing Technology Center at Pittsburg State University in Pittsburg Kansas and the Kansas State University Engineering Department in Manhatten Kansas for assisting in this process.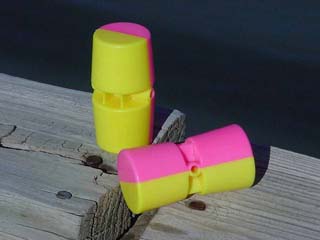 Jones's path has had its share of delays and obstacles but with perseverance many more opportunities have emerged for extensive product line expansion. A marketing study suggests that both the Bowtie™ Float and Corker™ End-Tapered Float as being a viable product on the marketplace. Caution orange and fluorescent yellow have been chosen as the initial two-toned colors because of their visibility qualities, but additional color choices will be available in the future (see pic).
Acquisition of the local inactive V.F.W. building in Greensburg has provided ample room for production line assembly and packaging as well as office space, supply and inventory storage.
Marketing activities include Promotional Packets which include product samples, a videodisc presentation and hard copy support material will be available to potential retail outlets. The Bowtie™ & Corker™ Floats made their debut at the 2005 Kansas Boat Sport and Travel Show at the Kansas Coliseum in Wichita February 16th - 20th with informational material as well as packaged floats for sale. This experience gained us a wealth of information as well as great contacts such as Pro-cat.com catfish bait and Ken Freeman Outdoor Promotions, who we are helping to support his catfish tournament for disabled children. To learn more about Ken Freeman's association, please visit www.kenfreemanoutdoorpromotions.com.

Testimonials and Media Coverage
Available in our store for $3.69
or you can
Order Now Corker or Bowtie