October 2009 - April 2010 Trout Stocking - Region
1 | 2 | 3 | 4 | 5
Kansan Brent Chapman in 19th
Versatile Velvick Maintains Lead at Bassmaster Elite Series Event on Clear Lake
Kansan Brent Chapman in 13th
Velvick Comfortable in California , Takes Opening Day Lead at Bassmaster Elite Series Event on Clear Lake
Virginia's Crews Bests Reese by Ounce in Bassmaster Elite Series Opener on California Delta
Louisiana's Hackney Storms to Lead on California Delta at Bassmaster Elite Series Season Opener
Kansan Brent Chapment in 63rd after two days
Arkansas' Browning Extends Lead at Bassmaster Elite Series Season-Opener on California Delta
Kansas paddlefish snagging season opens March 15, runs through May 15
Anglers should be aware of new rules, areas open
KANSAS FISHING PROGRAM HONORED NATIONALLY
Community Fisheries Assistance Program recognized by American Fisheries Society
Kansan Brent Chapman finishes in fifth
Unflappable VanDam wins third Classic
Michigan pro outlasts steady Kriet and surging Lane
Kansan Brent Chapman climbs to ninth
Oklahoma's Jeff Kriet Surges to Lead at Bassmaster Classic with Day 2's Biggest Bag
Kansas Fishing Atlas 2010 now online
Atlas includes maps of all public-access fishing areas; printed copies available late February
Starter Kits for making your own sinkers, jigs and spinner baits
Kick'n Bass Scents | Wood carvings by Gary Cooper
Video and instructions to help prevent the spread of Zebra Mussels


March 20, 2010 -Cheney -Cheney lake, two 28 inch walleyes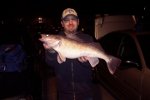 March 19, 2010 -Cheney - We got to the dam at Cheney about 7pm on 3/18/10. Started throwing rattle traps, jigs, and shad raps. Didn't get a thing till after dark, maybe about 9pm. First got a 22 inch walleye followed by a 20 inch walleye. A few casts later BAM! This 9lb 29 inch walleye just slammed my rapala stick bait. Was a lot of fun! Tons of people on the dam.
March 14, 2010 -Cheney - Decided to go out to cheney and try the dam. Nothing till around 7:30 Pm Then BAM ! Got this momma on a kastmaster ! Caught 2 others under 20". Went ahead and put her back ! Want to catch her again !!!
gypsumrocker

March 13, 2010 - Lake Fork - Submitted by Lake Fork Guide Trips - An extended period of warm and sunny days has a lot of bass actively roaming up shallow at Lake Fork. Male bass are showing up en masse in the back of creeks, a sure sign that the females aren't far behind. With the new moon on Monday and more nice days in the forecast, I expect our first major wave of spawning next week and a lot of big fish will be caught. (Duran Duran fans might even point out that with a "New Moon on Monday" the bass will be "Hungry Like the Wolf." Sorry, I couldn't resist.) Read full report.